When most people think about making their homes more accessible they tend to focus mainly on indoor spaces. Even though this is certainly the area where modifications are needed most, it doesn't mean that you should leave out the garden or backyard, especially since we all love enjoying the outdoors. 
If you, a loved one living at home, or someone who visits often has mobility impairments, or if you're simply looking for a way to live independently in your home for as long as possible, there are many simple ways in which you can make your outdoor spaces more accessible to all. 
Accessible Gardens
For people who love gardening but have to use a wheelchair or have a stiff back, raised garden beds can be a great solution. These can be placed on patios, roofs and any other space where you may not have expected to find a garden, making it easy to place them somewhere accessible to a wheelchair. 
Smooth Walkways And Driveways
Walkways and driveways should be as smooth and wide as possible in order to allow wheelchairs to maneuver through them. Ideally, they should connect to all entrances to the house and as well as to areas such as the pool, fire pit, parking area or any other outdoor facilities.
If you have a garden next to your driveway or home's front entrance making sure that your parking area or driveway is well paved is an easy way to make your outdoor spaces more accessible. Another way would be to curve the corners of your walkway or widening the areas around it in order to avoid right-angle corners that can be challenging. Concrete is a material that provides a smooth enough surface for anyone to use, posing less of a tripping hazard than bricks or cobbles. 
Remember to add proper lighting, such as automatic motion-sensor switches, timers or light sensitive devices with LED lights that keep the area well illuminated. 
Ramps
If your garden or backyard has decks and patios that are raised, adding a ramp is necessary to make your outdoor spaces more accessible. The same goes for any area, such as a pool or outdoor fire pit. Threshold ramps and aluminum modular ramps are good choices in this case as they can weather the outdoors and can be placed wherever they are needed. In the case of smaller heights, a portable ramp is also a great solution. 
Outdoor Stairlifts And Wheelchair Lifts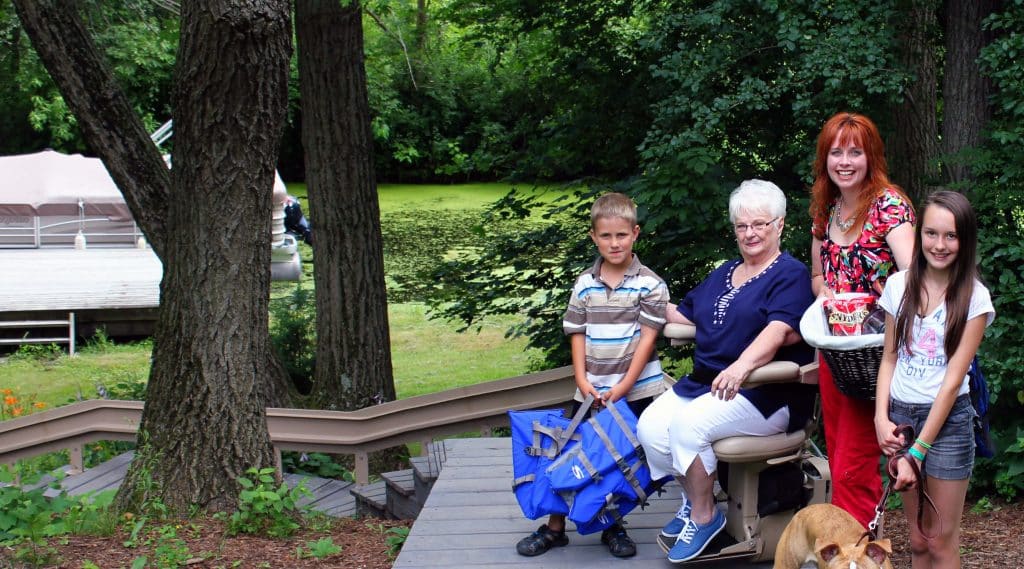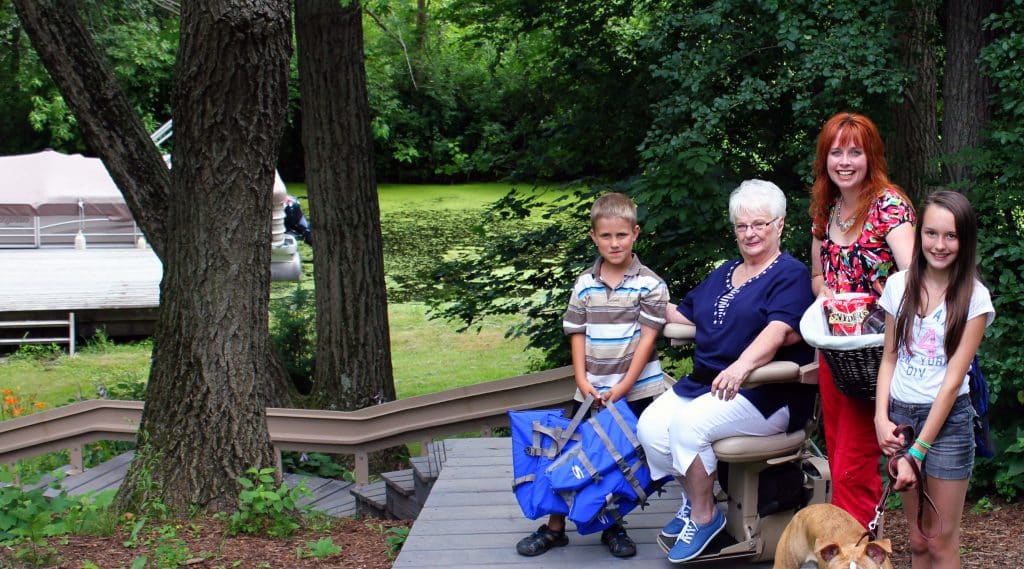 When something more robust is needed or in the case of a full flight of stairs and significant level changes, outdoor stairlifts and wheelchair lifts can be a great solution because they can be used all year and are perfectly adapted to resist outside conditions. 
For those who have difficulty using stairs or walking, a stair lift can provide a smooth and safe ride, leaving enough room on a flight of stairs for everyone else to use them normally. These can be particularly useful for the elderly and disabled or someone facing any illness that affects their mobility. In the case of wheelchair users, a vertical platform lift can provide an elevator like aid, able to travel vertically up to 14 feet. 
Inclusive Outdoor Furniture
Inclusive outdoor furniture, such as picnic tables, that provide a place for a wheelchair can be a great addition for everyone to enjoy an outdoor meal.
Enjoying the outdoor spaces of your home should be available to everyone, and by following these simple tips it can be made possible. By making your outdoor spaces more accessible, you're ensuring comfort for all who need it as well as making sure that you're able to age in your home and continue to take in all of the beauty of your garden and backyard for years to come.